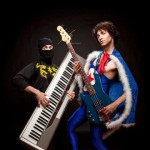 If you're looking for proof that what you name your child will effect his chosen profession, look no further than Dan Sexbang and Ninja Brian of comedy duo Ninja Sex Party.
The duo was in the studio last week recording some voiceovers and vocal tracks for a brand new video. It was a full house with not only NSP but also some major voiceover talent (no joke – think Broadway) providing grunts, groans and "You will rule over the dance floor with a brutal iron fist!!!".
This yet to be released video will be titled "Dj's In Pj's," so keep a look out for it on their youtube channel, and while you're at it check out some of their previous work. Did we forget to mention that all their vocals were recorded at Metrosonic…? (High five!)
Follow them on twitter!