Our Experienced Professional Staff
Gear is important, but it's the people here who make MetroSonic what it is.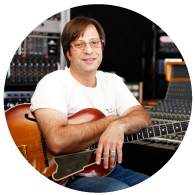 Pete Mignola
Studio Owner & Chief Engineer
Some of my earliest memories go back to listening to big band jazz on my dad's open reel Ampex 1/4″. I was fascinated with how that thing worked. Later on I'd use it to record my rock band's rehearsals, in mono with one mic. I still have that deck. But the tipping point for me was my first recording session in a real studio with my high school punk band. I can still remember the thrill of (really) hearing our music played back for the first time. After that day, I knew I wanted to make and record music and there was no turning back. Thirty years later, I still get that feeling after a good session. And it always makes me happy to see our clients realize that experience. In '91 I moved from Manhattan to Brooklyn and converted a loft space to record my music and rehearse the jazz group I was gigging  with at the time.  After a decade of building and providing technical services for dozens of studios in and around NYC, I decided to upgrade my project studio and open it to the public. Everything about MetroSonic from the gear & layout to the staff, reflects the aesthetic I have developed as a composer, musician, and engineer.  One of the great things about the work we do is the diverse community of people we meet over the years. I've had the opportunity to work with a wide variety of talented artists and producers from Moby, Peter Gordon, Eric Johnson Trio, Michael McDonald, Stanley Jordan, Andrew Bird, as well as projects for ABC TV, Vice Music, Warner Bros, and Atlantic.
Much of my time these days is spent running the studio, which includes everything from booking sessions and assigning the right engineer for each project to equipment repairs and modifications.  For the past year or so, development of our Live@Metrosonic broadcast has taken up much of my attention.  I'm always interested in collaborating with talented artists pursuing a creative project, so feel free to reach out & contact me with your ideas if you're inclined. On the horizon is a project recording some compositions I've been kicking around over the past years. This promises to be a satisfying endeavor once I can set aside the time to dig into it. In the meantime, I'm looking forward to meeting you and welcoming your next project to MetroSonic.
---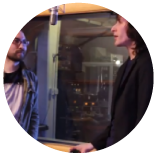 Ryan Impey
Studio & Marketing Manager
As a young drummer growing up in the midwest, I dreamed of one day moving to the big city and working in a recording studio. I was completely obsessed with bands like Led Zeppelin and The Beatles and wanted to learn how to make records that sounded like them (still do!). I attended the Berklee College of Music in Boston and while there, I developed a deep appreciation for jazz and electronic music. After graduating from Berklee, I moved to New York and shortly thereafter joined Metrosonic. I started out as an intern but gradually, I learned the ropes of the recording business. Now I'm an assistant engineer, the resident drummer and drum tech and the head of our Music Promotion and Video Production services.