Creative Vibe, Vintage Gear, Dedicated Engineers!
The best of classic analog meets state of the art digital audio recording!
From the moment you first walk through the door until you leave with your album in hand, our courteous and professional recording studio staff will provide you with the expert personalized service your music recording project deserves, all at an affordable price.
Conveniently located in the heart of New York City's hottest music and arts community, Williamsburg Brooklyn.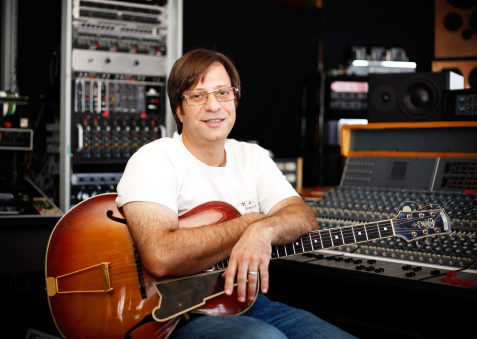 MetroSonic Recording Studio NYC & Music Production Services
MetroSonic is a full service recording studio and music production facility in NYC. We offer complete album production & pre-production, scoring & arranging, tracking, mixing and CD mastering, as well as vintage instrument rental, post production, voice over, and forensic audio services for valued customers.
While we specialize in recording and mixing analog album projects from beginning to end, we also enjoy working in whatever format or stage of the project that requires our attention. For labels, producers and artists working between multiple locations and looking for the perfect place to cut basic tracks, do a critical overdub or mix your album on a vintage console with first-call gear and engineers, MetroSonic is a great choice.
Project Pre-Production & Music Production
Help with composition and arrangements
Hire session musicians for those special parts
Pre-recording rehearsals
Budget planning
Midi sequencing, loop and drum programming
---
Mixing
Online Analog Mixing available. Send us your files & we'll send you back an amazing all analog mix
Mix your album on one of the best vintage consoles around: the Neve 5315
Hear what's REALLY going on with our custom built, mastering quality monitors (plus 3 other traditional sets)
Expand your number of mixdown channels to 72 with our ultra-clean Sony MXP2900
Experience ultimate routing flexibility with our custom built 24×24 Neve switching matrix
Get out of the box and into the tone with first call gear like EMT plates, Manley comps
Print your final mix to 1/2″ 2-track, 1/4″ 2-track or high-resolution digital
Tracking
Expert producers and tracking engineers make sure your best performance is captured flawlessly
Live room with floated floors
House instruments including drums, percussion, guitars, amps, keys & piano
Movable gobos for additional isolation spaces
Large network of session musicians for cutting those special parts
Track to the ultimate in analog: 2″ 16 track
Track through 24 channels of vintage Neve pre-amps for the ultimate in analog tone
---
CD Mastering
Master from all major mix formats: 1/2″ analog, 1/4″ analog, DAT and high-resolution digital
Restore and revitalize old recordings using our mastering signal chain and surgical noise-reduction
Post Production
Enjoy editing your dialogue in a comfortable studio
Compose your score with a great selection of real instruments and amps
Break out your mixing onto our 72 channels of Sony MXP2900 and Classic Neve
Experience foley recording with a collection of microphone flavors
Waste no time, syncing to your score picture
Our sync is locked, routable and easy to understand
---
Forensic Audio
Dealing with too noisy audio that needs to be understood?, we can help
Enhance the audio/video that might be misunderstood.
Eliminate background noise for easier future archives
Smooth format conversation to CD, DVD, or Powerpoint presentation