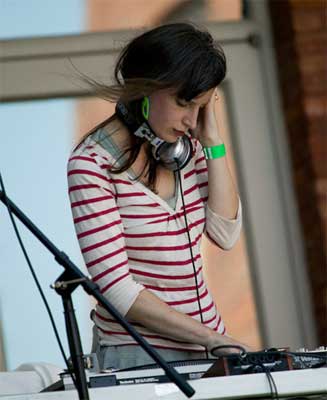 Marina Rosenfeld
Congratulations to Marina Rosenfeld for making it to the top 20 of Boomkat's Top 100 albums of 2013 list with her album "P.A./Hard Love"!
Marina Rosenfeld is a talented composer from New York City, who blends Art and Music for a experimental blend. Marina Rosenfeld, along side of virtuoso cellist Okkyung Lee and Warrior Queen collaborate sounds that should not mix but find away to be a very surreal collision of sound that will entice the listener for more.
Boomkat describes the album as, "The inter-dimensional blend of Warrior Queen's vocals and Okkyung Lee's cello infused, electro-acoustic scapes draped by the intense frequency modulations of Rosenfeld really sounds unlike anything you'll have heard before: it's sort of like Rashad Becker, Kode 9, Ryoji Ikeda, The Bug and Laurie Anderson all playing at once, somehow sounding cohesive and startling all at once. Adapted from a series of quasi-sculptural sound system installations, 'P.A. / Hard Love' unfolds around morphing location recordings with unstable acoustic parameters in electronic sound fields strafed with eerie sci-fi tones and complex synthesizer patterns. Warrior Queen sounds like she was dialed in as a mischievous AI presence; something like a character in the latter chapters of Necromancer, singing and spitting amidst the laser zaps and gyroscopic diffusions."
They continued, "Most crucial to the record's appeal, though, is that constantly morphing patina of electro-acoustic flux; like the scramble suit in Philip K Dick's 'A Scanner Darkly', perpetually shifting and realigning your ear's focus between the peripheries and the foreground with something approaching a slow, controlled, cybernetic psychedelia. Quite simply, it's a stunning and highly idiosyncratic record, one that sucks you in deeper with every repeated listen."
Metrosonic Recording Studio had the pleasure of Mastering Marina Rosenfeld's album and we are proud to see how far her work has come! Check out the track "Hard Love" below and for more of Boomkat's Top 100 Albums of 2013 click here!