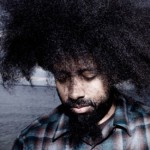 This Sunday, Amnesty International is celebrating its 50th anniversary with The Secret Policeman's Ball at Radio City Music Hall in New York City and we have cause for celebration because our friend, Reggie Watts, will be performing live!
Reggie was here but a few short weeks ago recording a track for his friend John Mulaney's Comedy Central special called "New In Town." We got to see him live and he's definitely worth the price of admission so if you're in the city you can get tickets for the show here. For those not in NYC, fear not, you'll be able to watch it live on TV.  This show has quite some billing – Reggie Watts, Coldplay, Jon Stewart, Stephen Colbert, Russell Brand and MORE? Can't wait.
No excuses for missing this one. Let us know if you're going or watching!