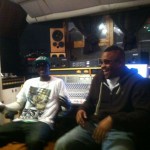 Check this mix & let me know what you think.  I have a few versions.  I'll edit together a new one & post it soon.
[audio:http://www.metrosonic.net/blog/wp-content/uploads/2012/02/Good-Foot-Mixed.01_03.mp3|titles=Good Foot Mix 1]
Maybe music changed or  I'm getting older, but there are very few hip hop songs that are not only approved for all ages, but actually good too. Enter "Goodfoot". This is a song you need to hear, though I will do my best to illustrate it for you. Trust me on this one, you need to hear "Goodfoot" for yourself.
Think of "Goodfoot" in terms of cocktails. Take "Going to Miami" and "Getting Jiggy With It"  (don't deny it, everyone knows those two tracks) from the late '90s.  Mix in 2 parts "Hypnotize" and "Hard Knock Life" (again, you know these). When the two pairings are stirred (or shaken) properly, the harshness of the second two and the cheesiness of the first set  cancel one another out. The end result is a catchy tune, which is great to hear and sing along to.