MetroSonic Recording Studio presents…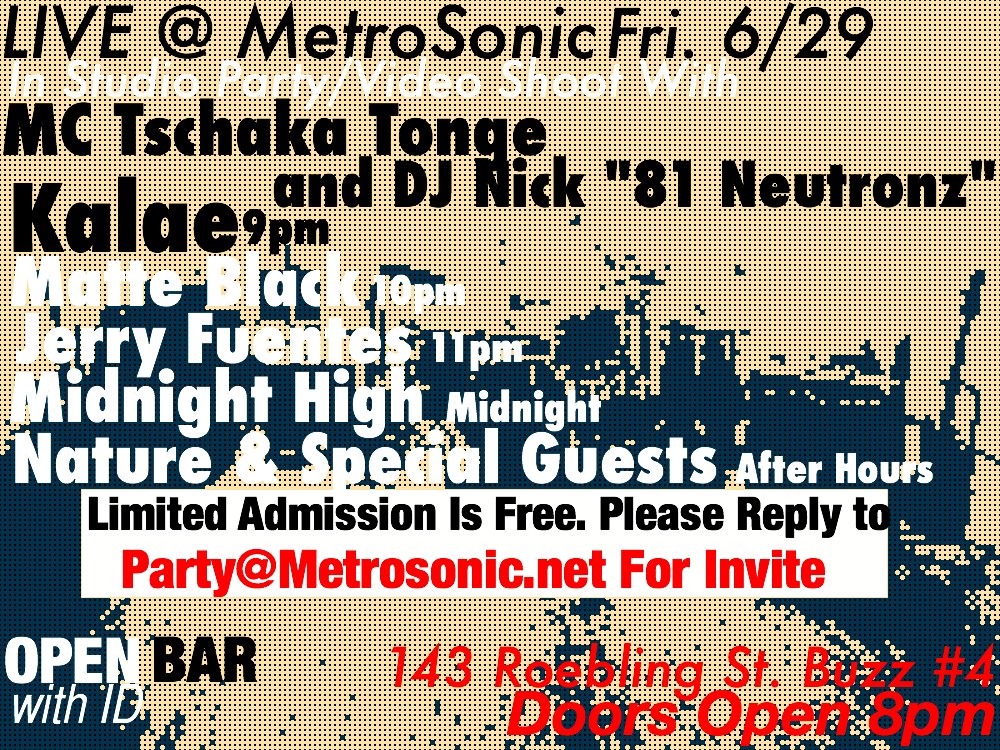 This is a live music event in MetroSonic Recording Studio in Brooklyn! The event includes performance from the NYC's hottest DJs and musicians such as Kalae All Day, Matte Black, Jerry Fuentes, Midnight High, Nature, and more. Our film crew will be shooting the performances and behind the scenes, so we would love for you to come down and be a part of the event. Admission is FREE! Just email us at party@metrosonic.net, and we'll send you an invitation! Refreshments are on us.
DATE: June 29 (Fri), 2012
LOCATION: MetroSonic Recording Studio 143 Robeling Brooklyn, NY11211
EVENT: LIVE@MetroSonic Recording Studio featuring: MC Tschaka Tonge and DJ Nick "81Neutronz" Low-Beer
LIVE BANDS LINEUP:
Kalae All Day @9pm
Matte Black @10pm
Jerry Fuentes @11pm
Midnight High @Midnight
Nature and special guest will be joining us too!
Age 21 up • Doors Open @8pm • After Hour
Looking forward to hearing from you!
Email us for FREE tickets at: party@metrosonic.net
Staff at MetroSonic: Pete Mignola • Teruhisa Uchiyama • Ryan Impey • Adam Andrew